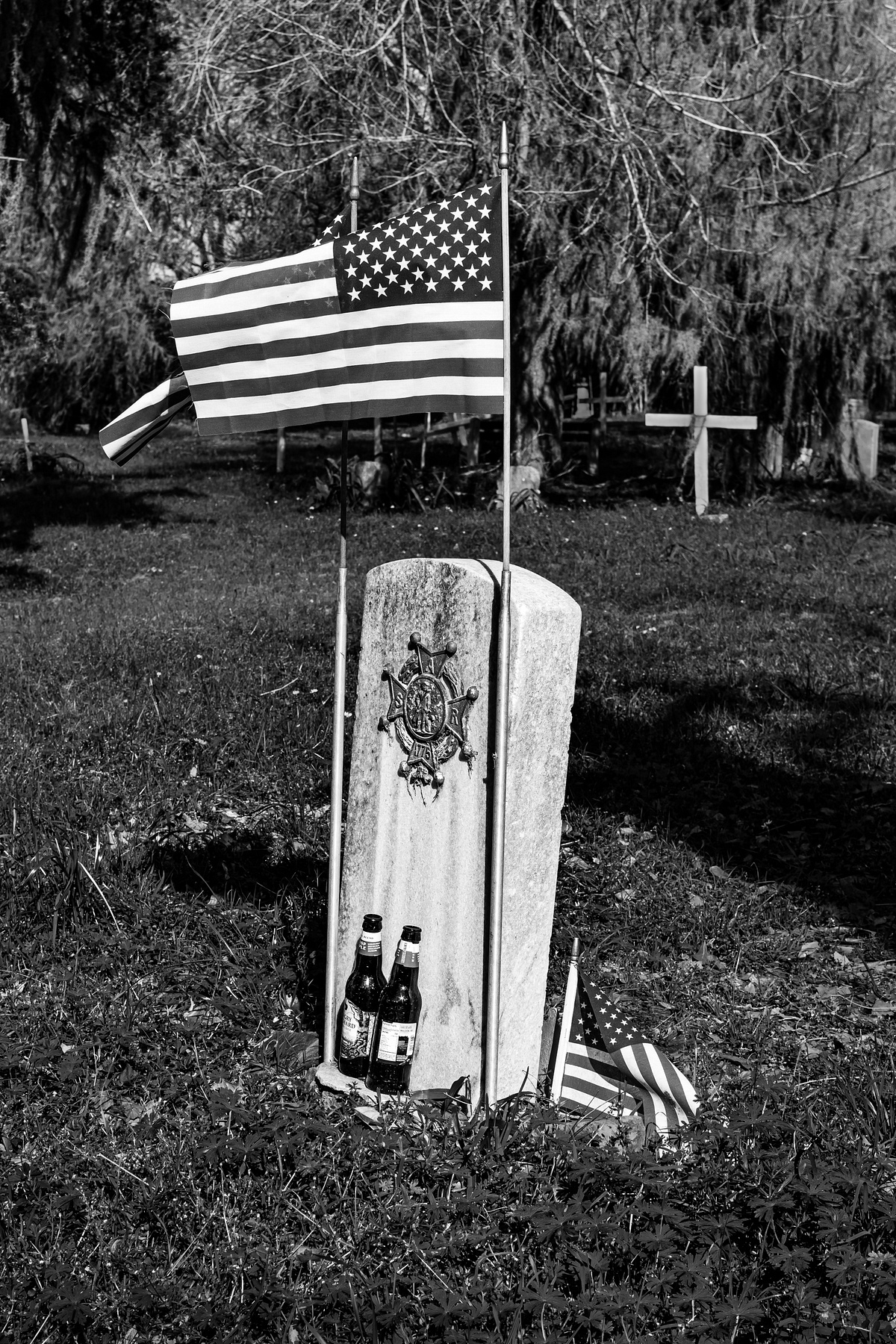 In 1823 Alexander Hodge was one of 297 settlers who bought land from Stephen F. Austin in what today is Texas. His plantation was sited along a bend in the Brazos River; today the area is still known as Hodge's Bend. 
This old plantation cemetery had its last burial some 80 years ago. As a teenager Alexander fought in the Revolutionary War, and this gravestone was placed by the D.A.R. sometime in the late 20th century. 
During one of my visits to this old place, I saw the two beer bottles neatly tucked in at the base of the stone. Without much effort, I could imagine a balmy spring evening with two fellows, already in their cups, deciding they really should lift "just one more" to honor Old Hodge.
Comments (4)
@Kwarkito – I had to look up Bukowski (I read "a 340 dollar horse and a hundred dollar whore") as he was not on my radar. I will read more. Tom Waite is a bit after my time – I lean more toward Big Band music and very early (Buddy Holly) Rock and Roll. @Dragonstar – This entire little graveyard is surreal. Lots and lots of old white wooden crosses, faded and askew, under a growth of trees dangling with Spanish moss. Now someone has added an old confederate war monument that was removed (finally) from public land in the county seat. Wrong in so many ways – too big, ugly, confederate – it just looms over the pathetic old crosses and gravestones.
Just a touch surreal. Great find!
Just a touch surreal. Great find!
Beer flag and death. It could be the title of a bukowski's poem or a tom waits'song